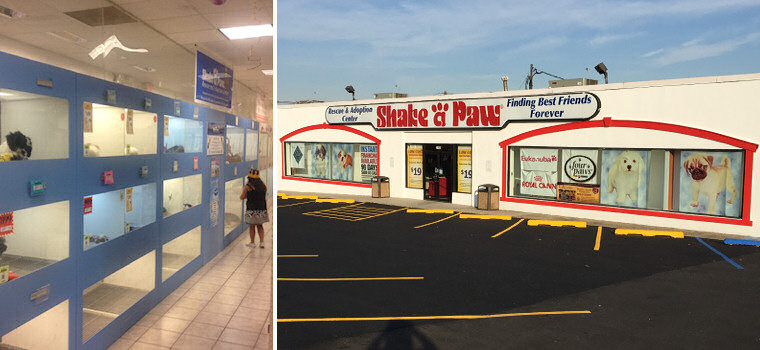 Welcome To Shake A Paw Rescue and Adoption Center
The Shake A Paw Rescue and Adoption Center is unlike any other Adoption facility. Located inside our state of the art Shake A Paw store and licensed as an Animal Shelter (Yes, we are a Shelter!!), we accept dog surrenders from the general public, as well as rescue homeless, abandoned and unwanted dogs. Giving back to the animals we love by finding them a Happy Forever Home is our goal and mission.
30 Days FREE Pet Insurance is now included with every Adoption!!


The Shake A Paw Center for Rescue and Adoption is please to partner with Petplan USA. Petplan is one of America's best pet insurance providers. To assist you in ensuring continuous care for your new best friend, we have teamed up with Petplan to offer you a 30-day free pet insurance policy to help pay any unexpected medical expenses for your new companion.

Click on the Petplan logo below to activate your plan, or to find out more about Petplan.



| | | |
| --- | --- | --- |
| | Penny, the bully-pitbull mix, was brought to our Rescue Center on a freezing cold day in January, 2013. Rescued from a pitbull breeding kennel, she lived a life outdoors, without a family to love her. She slept on a cold concrete floor, stuck in a 6x12 pen. | |
Dominate Breed:
POODLE MIX
Sex:
FEMALE
Approximate Birth Date:
09/11/15
Color:
CREAM/WHITE
Arrival Date:
09/11/17
Dog Number:
33910235
About Me:
HI! IM TAMMY, I AM A 2 YEAR OLD POODLE MIX. ...
Adopt Me For Only:
$499.00
View Our Adoption Dogs At Union, NJ
Dominate Breed:
CHIHUAHUA MIX
Sex:
MALE
Approximate Birth Date:
04/01/13
Color:
FAWN/WHT
Arrival Date:
06/28/17
Dog Number:
347
About Me:
HI MY NAME IS COOPER, IM A CHIHUAHUA MIX. I LOVE EVERYONE AN ...
Adopt Me For Only:
$199.00
View Our Adoption Dogs At Green Brook, NJ

Shake A Paw Rescue recommends local Obedience trainer , Mr. Hugo Dantes of the Tanattus Training School. From basic obedience to advanced off-leash training, Hugo does it all! Speaks English, Portuguese and Spanish!